No matter what type of cancer you have, you're in for a fight. But for Black women who have a higher chance of developing or are newly diagnosed with triple-negative breast cancer (TNBC), it can be an uphill battle. Not only are non-Hispanic Black women ~2x more likely to have TNBC than non-Hispanic white women, they also face barriers like delays between diagnosis and treatment and lack of adequate insurance or resources.
We're here to take a stand. We're here to talk about those challenges and rise above them, together.
We're here to Uncover TNBC.
Uncovering TNBC: Hometown Hereos
We're recognizing three exceptional women who have used their experiences to raise awareness, advocate for change and address the barriers and challenges Black women may face when living with TNBC.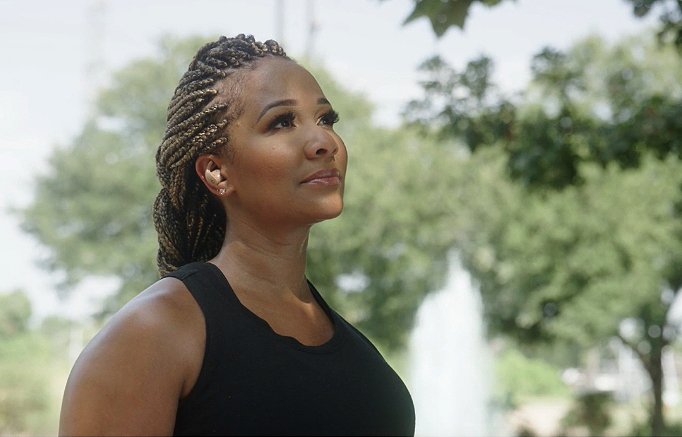 Lyndsay
Houston, Texas
Recognizing the unique challenges faced by Black women with cancer, Lyndsay decided to use her TNBC experience as a source of inspiration by creating a support system for other Black women on their cancer journeys.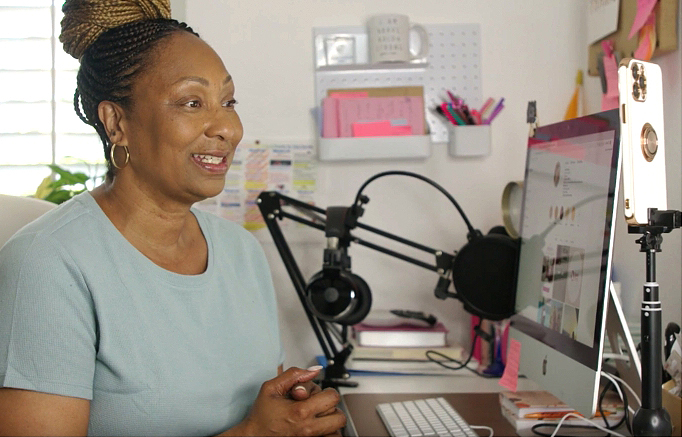 Keisha
San Francisco, California
Before being diagnosed with TNBC, Keisha was on a fitness journey to live a healthier life. Following a shocking diagnosis, she struggled with a lack of information on how to move forward. Today, she is dedicated to sharing vital resources and letting other Black women fighting TNBC know they are not alone.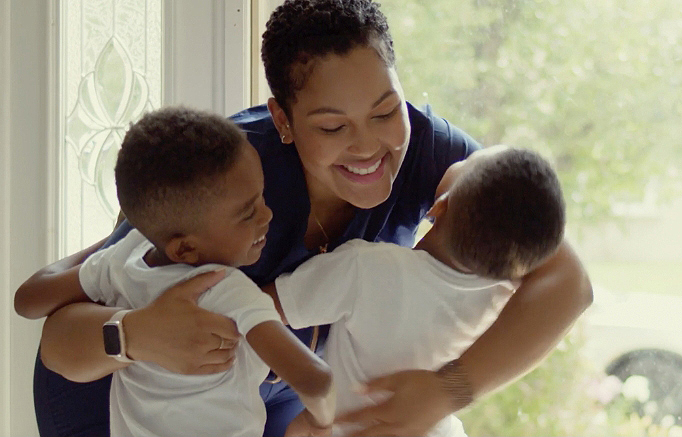 Jazmine
Chicago, Illinois
During her battle with TNBC, Jazmine used her experience in healthcare to find the best possible care. Recognizing that others may not know how to do the same, she began sharing her personal story to empower other Black women to learn how to find information, ask questions and stand up for themselves.
Empower yourself with knowledge about TNBC
Being diagnosed with triple-negative breast cancer (TNBC) can feel incredibly overwhelming. Any cancer diagnosis probably feels that way, but TNBC is an aggressive, less common type of breast cancer more often affecting women who are younger than 40, are Black or who have BRCA1 or BRCA2 mutations.
Black women are more likely to face health care disparities, including inadequate access to breast cancer screenings, difficulty accessing treatment when diagnosed and less access to preventive and educational information.
Learning more about TNBC can help you feel prepared and confident in the discussions with your care team – whether it's about your risk or your diagnosis.
What is TNBC?
TNBC (triple-negative breast cancer) does not have 3 receptors (proteins) that help other breast cancers grow: estrogen receptors, progesterone receptors or extra HER2 receptors. This makes it "triple-negative."
In other words: Something else is helping the cancer to grow. This means treatments that are commonly used for types of breast cancer that have those receptors may not work to treat TNBC.
Who does TNBC affect
the most?
10-15%
Of people with breast cancer, about 10-15% have TNBC
2X
Non-Hispanic Black women are about 2 times more likely than non-Hispanic white women to have TNBC
This map shows the 12 states
with the highest percentage of Black female TNBC patients.
Click on a state to see its percentage.
This data is compiled from 2018-2020 administrative insurance claims, as well as CDC diagnosis and mortality data from 2017, the most recent year available. The total female TNBC patient count was 692,000; of those, 226,000 listed a race or ethnic group. Of those 226,000, 31,000 identified as Black or African-American.
This data is compiled from 2018-2020 administrative insurance claims, as well as CDC diagnosis and mortality data from 2017, the most recent year available. The total female TNBC patient count was 692,000; of those, 226,000 listed a race or ethnic group. Of those 226,000, 31,000 identified as Black or African-American.
TNBC key terms to know
Learning about TNBC can feel like learning a new language. Here's a quick guide to some of the terms you may hear (click on a tile to see the meaning)
Chemical messengers that tell our bodies to do specific things.
Think of a receptor like a lock that can only be opened by a specific key (in this case, a hormone).
A hormone that helps with the development of the female reproductive system and female characteristics, like breasts.
A protein that tells breast cells to grow. When cells have excess receptors for this protein, they are called HER2-positive (HER2+).
A molecule inside the body that has a specific job. Receptors are just one example of the many jobs for proteins.
A microscopic structure that contains all the ingredients necessary for life. Humans have trillions of cells.
A small part of the code that decides how our bodies look and function.
A change in genetic code that can lead to cancer or other health issues, but can also be harmless. Mutations can be passed down from our parents.
A gene that can cause breast cancer. If you have a mutation in your BRCA1 gene, you are more likely to get breast cancer.
Are you ready to take action?
More needs to be done to improve care for women at risk for TNBC. These materials may help you talk with your care team, understand treatment options and hopefully overcome some of the barriers you may face. These resources were created in partnership between Merck and breast cancer advocacy organizations.
TNBC FAQs
Here are answers to frequently asked questions about TNBC and breast cancer. You can also download a guide for communicating with your health care team here.
TNBC can happen in different groups of people. However, it is most common in women who are younger than 40, African-American or have a BRCA1 or BRCA2 mutation (change) in their DNA. Researchers do not know for sure why women with these traits are more likely to have TNBC.
TNBC may be more difficult to treat than other types of breast cancer. Remember that every case of TNBC is different. You and your care team will come up with a plan that makes sense for you based on factors including:
The size of your tumor

Whether or not your cancer has spread to surrounding tissues and/or outside your breast

Your overall health history, and more
Some of the treatments used for other types of breast cancer are not helpful in treating TNBC. If you have been diagnosed with TNBC, talk with your doctor about your treatment options. Use this health team discussion guide to help.
"Stage" is used to describe the size of the tumor in your breast and if it has spread to the lymph nodes and other parts of the body. There are 4 stages of invasive breast cancer. The stage you are in will affect the decisions that your care team makes about your treatment and next steps.
Lymph nodes are tiny organs that are part of your immune system and located throughout your body. They filter harmful substances and help the body fight infection and disease. Larger groupings of lymph nodes are found in places like your neck, underarm and chest. Lymph nodes are a common place that breast cancer may spread to.
Stage 1
The earliest stage of "invasive" breast cancer, which means cancer has grown or spread into nearby or surrounding breast tissue
Tumor is 2cm (about the size of a peanut) or smaller
Cancer either has not spread to lymph nodes or may show microscopic spread to lymph nodes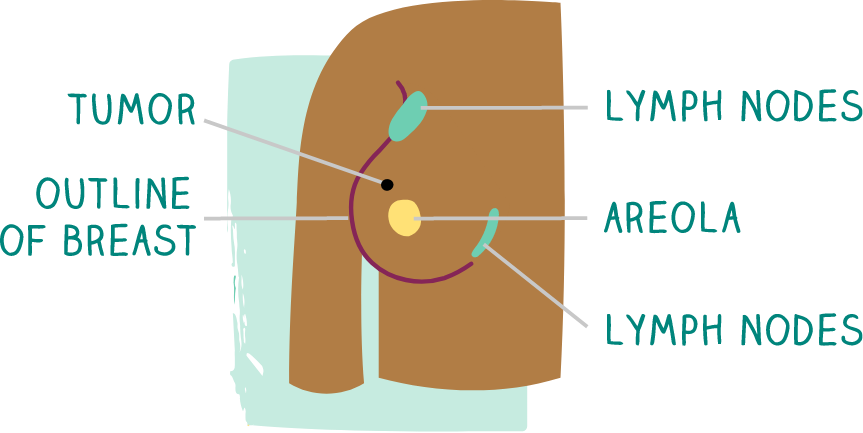 Stage 2
Tumor may have started to grow up to 5 cm and has started to appear in the lymph nodes
The tumor may be larger than 5 cm but has not appeared in the lymph nodes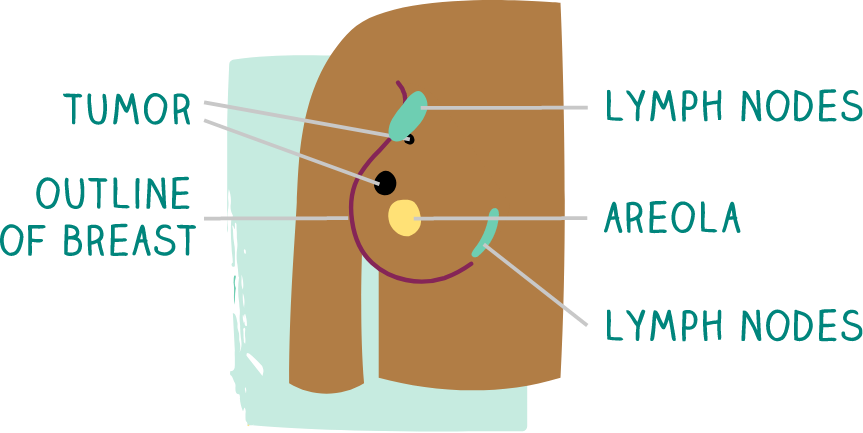 Stage 3
The tumor may be any size and has spread to axillary lymph nodes or to internal mammary lymph nodes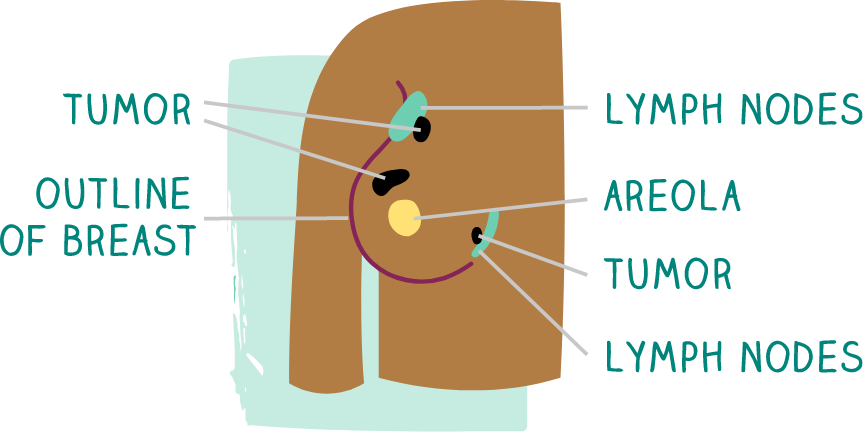 Stage 4
This stage means the cancer has spread beyond the breast and nearby lymph nodes to other parts of the body
Also referred to as "metastatic" cancer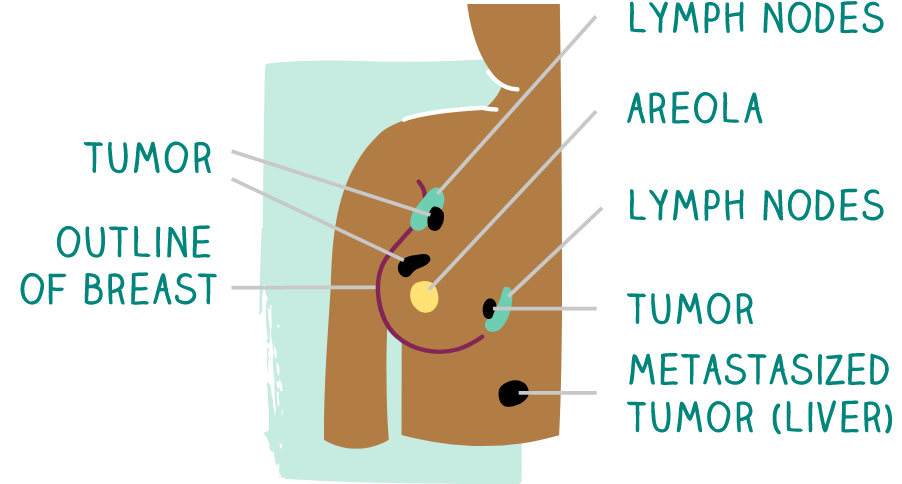 Each person's breast cancer is unique, and the way it's treated should be, too. The type of treatment you get may depend on your breast cancer type and stage.
Your care team can answer your questions, put your needs first and discuss all possible treatment options with you.
Uncovering TNBC organizations
Tigerlily Foundation
Tigerlily Foundation is a leading global organization — whose mission is to educate, advocate for, empower and support young women — before, during and after breast cancer. Their vision is to end disparities of age, stage and color. Learn more at their website.

TNBC Foundation
The Triple-Negative Breast Cancer (TNBC) Foundation's mission is to provide credible information, encourage and fund lifesaving research, advocate for patients and support the TNBC community.

Living Beyond
Breast Cancer
LBBC is a nationwide nonprofit made up of a powerful community bonded by breast cancer. For over 30 years, they've offered emotional, practical and evidence-based information and a community of support to those newly diagnosed, in treatment, post-treatment or living with metastatic disease. No matter where you are, you belong there.